Uniform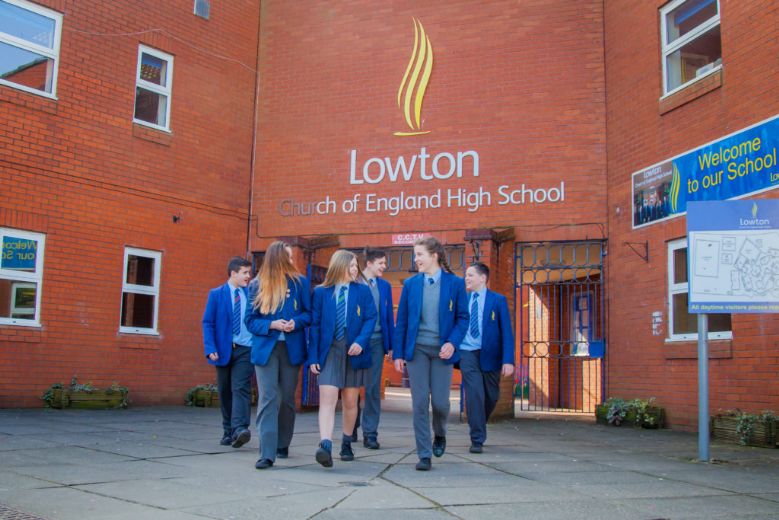 Ensuring students attend school dressed smartly is the foundation for high standards in other aspects of school life, including behaviour and a positive attitude to learning.
All students wear the school uniform. There are good social reasons for having a uniform: it encourages in students a pride both in their appearance and in their school and it minimises competition between students in the matter of dress. The chosen uniform is felt to be smart yet economical and practical.
The uniform comprises:-
Royal blue blazer with school badge on top pocket.
Light blue shirt or blouse worn correctly.
School Year Group Tie (Purchased from school) correctly worn.
Plain mid-grey trousers for boys and either plain mid-grey skirt or trousers for girls.
Please note: Standard trousers and skirts with the school logo for girls are compulsory. Skirts must be an appropriate length.
Optional grey V neck sweaters with the school badge are available from the stockists.
Plain white, plain mid-grey or plain black tights or socks. No patterned tights are allowed.
Girls should not wear both tights and socks.
Shoes
Smart black leather/ patent leather shoes without a logo only. No sportswear branded footwear is allowed. Please check with school if you are unsure about what to buy. Trainers, boots, canvas or leather pumps are not acceptable. In the event of extreme bad weather school will advise parents. If a student arrives in inappropriate footwear they will be provided with temporary black footwear or sent home to change.
Outdoor coats
Outdoor coats should be sensible and suitably protective. Students should wear them over their blazer, not instead of or under the blazer. They should be at least hip length and suitably moderate both in style and in cost. Bright colours, leather, leather look, denim and coats bearing large motifs are not acceptable. Students are not allowed to wear tracksuit tops, cardigans, hooded sweatshirts or zip up hooded tops. Once again, if unsure please ask school and a decision will be made.
Hairstyles
Hairstyles should be appropriate for school. Extreme hairstyles, including markings in hair are not permitted. Hair colour should be natural, bright colours such as red, pink, blue or purple are not allowed.
The minimum length for boys' haircut is a number 1.
Make-up
Natural light make-up may be worn discreetly. False eyelashes, heavy black eye make-up, mascara and blusher are not allowed.
The school will have the final decision in determining whether make-up is discreet.
Jewellery
One watch only. No earrings, studs, body piercings, including tongue piercings are allowed.
Students will be asked to remove them and may be sent home.
Jewellery will be confiscated and returned at the end of the day. Any further occurrences will result in parents being asked to come into school to collect the jewellery.
Nails
Nail polish and false nails are not permitted and students will be asked to clean/remove them.
School PE Kit
Compulsory School PE kit is one item each from the socks, shorts and shirts categories, please see the images above. Students can, if they wish, buy more than one item from each category. The additional accessories are optional but we recommend students take one of these options to help keep them warm during outdoor lessons when the weather is cold. It is also recommended that pupils wear shin-pads and gum shields for certain sports.
Garment

Boy's Items

Girl's Items

Socks

School PE socks

School PE socks

Shorts

PE shorts

Football shorts

PE shorts

Skirt

Shirts

PE polo shirt

Boy's polo shirt

Football shirt

PE polo shirt

Girl's fitted polo shirt

Additional Accessories

Jogging bottoms

Half zip jumper

Waterproof Jacket

Jogging bottoms

Hooded Sweatshirt

Microfleece/half zip
Local Stockists of Uniform
Impressions 83 High Street, Golbourne, WA3 3BU
Telephone: 01942587487
Website: https://impressionsuniform.co.uk/
A & H Rosenfield Unit H9-H12, Spinning Gate Market, Leigh, Lancashire, WN7 4PG.
Telephone: 01942 269046
Email: hilarylouise27@gmail.com
Rainbow Uniforms 87-89, Bradshawgate, Leigh, WN7 4ND.
Telephone: 01942 609447
Email: info@rainbowuniforms.co.uk
Jaymax 1 Gas Street, Leigh, WN7 4PD
Telephone: 01942 682984
Email: info@jaymax-wigan.co.uk
Slaters Eckersley Mill, Swan Meadow Rd, Wigan, Lancashire, WN3 5BD
Telephone: 01942 244426
Website: https://www.slaters-schoolwear.co.uk
Equipment
Each student is expected to have a pen, a pencil, a 30 cm ruler, an eraser and some pencil crayons. They should also bring their planner to school every day.
All students should attend school with a suitable bag to carry all their books and equipment.